it's just starting to rain. good timing.
another family walk. how i love them.
i kept telling you we were going to get lost but true to your word, you got us home before the rain started. with thunder rolling in the distance and kate munching on kix, you and i discussed triple a's, chest tubes, family, finances (gag) and traveling. the last topic was my favorite.
i've been lucky enough in my short 27 years to have been a few places. don't know if i have a favorite. they have all been great experiences. although the disgusting food and the lack your company puts the 2 weeks i spent in china at the bottom of the list. but i did climb the great wall.... maybe it's more the middle of the list. like i said, all great.
as we walked and you studied, i thought about the places i've been and the places i still want to go. you promised we will get to them all.... i think i'll hold you to that. how about some ideas to tuck away for later in life? (when you're done with school and we have a life again)
a convertible road trip through the florida keys
eating beignets at cafe du monde in new orleans
see central park, and all of NYC for that matter
spend a week in DC soaking up our history
sometimes i become obsessive with the things i want. a yard, a bigger vehicle, travels, to never wear the same thing twice... i blame it on the media. just kidding. it's my own fault. i don't often stop and appreciate the things i have and it's quite a bad habit. i've been trying lately to be more like you and to recognize all my good fortune. it's made me a happier person.
so... a few minutes ago i tucked katers into her crib for her afternoon nap (i also tucked you into our bed for your afternoon nap- you really are just a big kid) and i took some time to go through our photos and remember all the amazing things i've done and seen. thanks for all the adventures and here's to the many travels ahead. love your guts.
one of my favorite adventures is this one: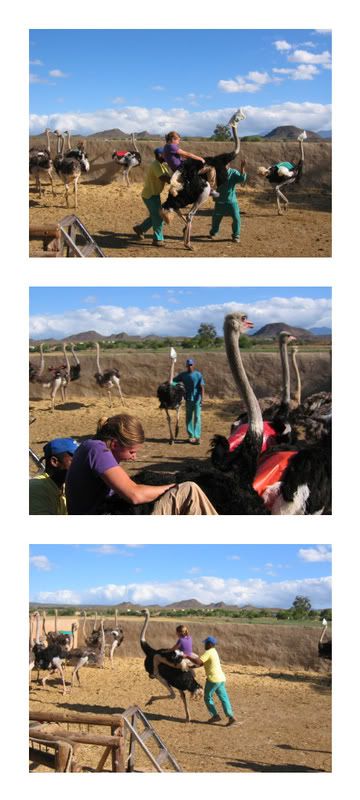 bb and i rode ostriches in south africa
amazingly terrifying experience- loved it
wouldn't do it again