i have been avoiding you of late. i was scared to see what you wanted to show me. we are entering swimsuit season after all... and i had reason to be concerned. 2 weeks ago jank and i were busy celebrating the summer break.
we celebrated by eating like 14 year old boys.
we frequented many of our favorite restaurants and never a calorie did we count. we ordered dessert. i made cookie bars. we had dairy queen.
we did everything we advise against.
and i didn't put a foot on you out of fear.
but the day of reckoning came today and i was scared for the complete opposite reason: 4 days of influenza. how low could your numbers go???
what's that line from "the devil wears prada"?
"i'm just one stomach flu away from my ideal weight"
i now completely get that, but still
don't appreciate the method
well, the exact number we will keep between you and me.
but the overall loss was 4 pounds. guess i'm glad i bulked up to begin with! scares me to think what would've happened if i hadn't.
the hubs tied the 4 pound mark as you are well aware
i'm not getting her anywhere near a scale for a month or two!! her chubby cheeks are not so chubby. i can feel her every rib when i pick her up and her spine sticks out like the wasatch mountains. almost makes a mommie cry.
tried feeding her a frosty today.... appetite still hasn't fully returned. i had to settle for a half a slice of bread.
farewell for a time bathroom scale. we won't be needing your services until august when we will need to weigh our luggage.
and stay away from katers!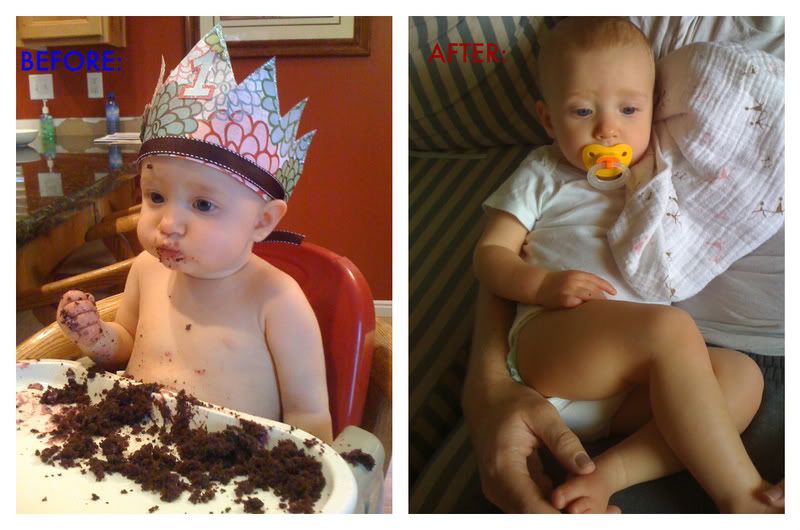 (left: birthday cupcake at the hansen's. right: listless on the couch, watching ESPN with dad, with bink and blankie of course)